Luxembourg launches new statistics portal innovating data publication and use
---
The National Institute for Statistics and Economic Studies of Luxembourg (STATEC) unveiled Statistiques.lu, Luxembourg's new and redesigned statistics portal, supporting more user-friendly search, access to and use of official statistics on Luxembourg.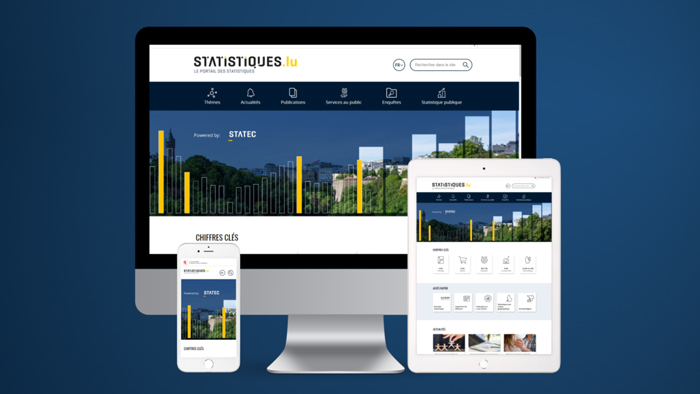 The portal offers a single point of access to publications and figures on topics such as population and employment, social conditions, economy and prices, enterprises, territory, environment and energy with data sourced from STATEC, ministries, administrations and other data providers.
The project was carried out with funding by the European Union (EU) via the Technical Support Instrument, an EU programme providing tailor-made technical expertise to EU Member States to design and implement reforms, and in cooperation with the European Commission's DG Structural Reform Support.
"Our new community-powered statistical data portal, supporting open standards and built on open-source .Stat Suite technology, opens up new possibilities regarding data consumption and data publication."

Luc Roettgers, Head of IT at STATEC
The redesign of the portal is based on several axes to better meet the expectations of its users:
a new modern, dynamic and user-friendly web design
a simplified menu structure allowing a more intuitive navigation and easy access to information
a responsive design for a better experience on computers, tablets and smartphones
visual and interactive tools: dashboards, simulators, videos and infographics
new statistical database LUSTAT containing more than 1,000 customisable and downloadable tables and built on .Stat Suite technology
a news section, a newsletter feature and an RSS feed
publications in different formats to address all target audiences
information on all ongoing surveys
"The launch of the new portal is a crucial new element in STATEC's repositioning with the aim to create more user-friendly content accessible to all audiences in order to promote the use of official statistics."

Sylvia Mann, Communications Expert at STATEC
Beyond the successful migration of existing tables and implementation of a new website with state-of-the-art features, STATEC worked behind the scenes on harmonising data structures for better accessibility, based on Statistical Data and Metadata eXchange principles (SDMX) and will continue to do so in the future. Benefits that data users will notice as a result are statistics delivered in a format that is even easier to use, read, interpret and interoperate.
"We, the Statistical Information System Collaboration Community, are very proud to support STATEC in developing a state-of-the-art data experience, leveraging official statistics standards and open-source technologies. The accessibility of quality data is central to the democratic debate and citizens' trust in public institutions. We look forward to further contributing to data excellence in Luxembourg through enhanced harmonisation and integration of data and with financial support provided by the European Commission."

Eric Anvar, Head of Smart Data Practices and Solutions at OECD
About STATEC
The National Institute for Statistics and Economic Studies (Institut National de la Statistique et des Etudes Economiques), short STATEC, is an administration placed under the authority of the Ministry of the Economy. However, it is scientifically and professionally independent, which means that STATEC sets its own working agenda in accordance with national and European statistical legislation, produces and disseminates data in complete neutrality.
Its purpose is to provide public- and private-sector decision-makers and citizens with a high-quality public statistics service. STATEC is committed to producing statistics, analyses and studies that present a detailed, faithful and objective picture of Luxembourg society. STATEC is also in charge of the Luxembourg statistical system, which is organised according to the principle of statistical centralisation.
---
---